Phillips & Temro Industries Recognized by Subaru with 2017 Supplier Excellence Gold Award
Eden Prairie, MN (May 22, 2018) – Phillips & Temro Industries (PTI), a global OEM and aftermarket provider of custom engineered thermal systems and solutions for the automotive and heavy duty industry, has been recognized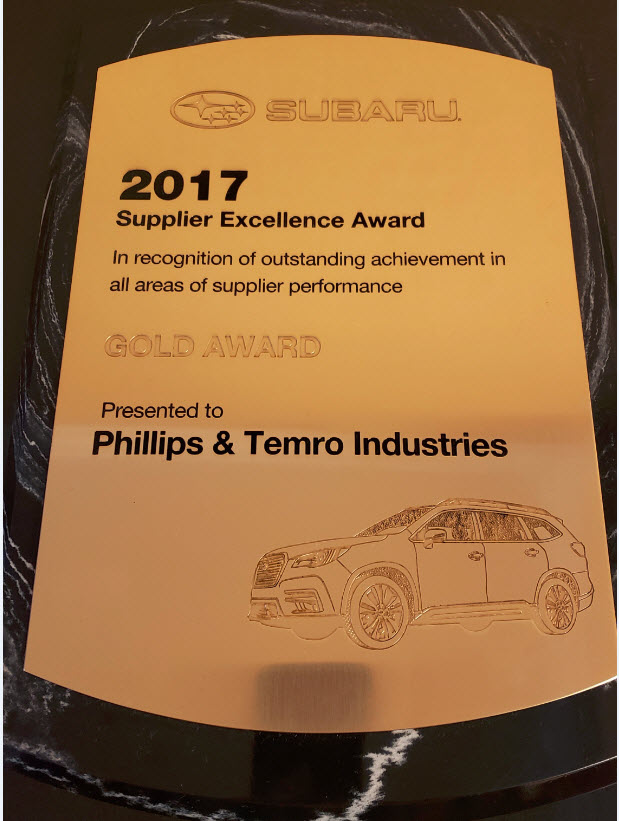 by Subaru of America with its Subaru "Supplier Excellence Gold Award". PTI is recognized for excellence in product development, marketing, quality, sourcing, supply, transportation, warranty and accounting.
The best vendor award was received by PTI representatives John Kallio and Mary Kay Renaud at Subaru's Annual Dealer and Vendor ceremony in New Orleans.
The Subaru Supplier Excellence Awards are the company's official programs to recognize suppliers who achieve the high performance standards necessary to meet customer expectations and remain competitive in the global economy. PTI has partnered with Subaru of America since 1997, and currently provides the auto manufacturer with engine heaters and harnesses.
"We recognize that supplier performance excellence is fundamental to Subaru's success and all of us at PTI are honored to be recognized with such a prestigious award," said Tom Moser, President, Phillips & Temro Industries. "This award for excellence symbolizes our continued ability to deliver high-quality products, services and value for the automotive industry."
About Phillips & Temro
Phillips & Temro Industries (PTI) is a global OEM and aftermarket provider of custom engineered thermal systems and solutions. Trucking, automotive, oil and gas and EV/hybrid are just a few of the diverse markets that benefit from PTI's heating, cooling, and electrification solutions. PTI manages the entire process from concept design, prototyping and testing to delivery with a focus on quality. PTI's portfolio of leading brands, including Zerostart, Temro, Arctic Fox, Idle Free and Truflo.